Description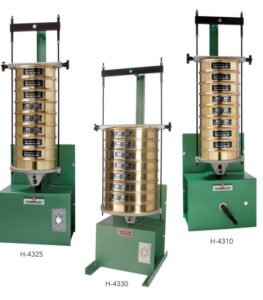 Compact portable Sieve Shaker with spring loaded tie rods that reproduces vertical and horizontal tapping action for accurate and dependable test results.
Steel housing, with built-in 30 minute timer, protects motor, pulleys and belts, yet provides easy access for maintenance.  Full length hold down bar adjusts for any number of sieves and holds them securely during shaking action.
Easy front loading and unloading of sieves.  Capacity: 10 or less full height US Standard 8″ diameter sieves with pan and cover.  Adapter for 3″ and 5″ sieves included.
Sieve shakers should be bolted to a bench to operate correctly.
Dimensions 21″w x 18″d x 47″h (533 x 4570 x 1194mm).
Shipping Weight: 65 lbs
Choose between 115V 60Hz or 220V/50Hz