Description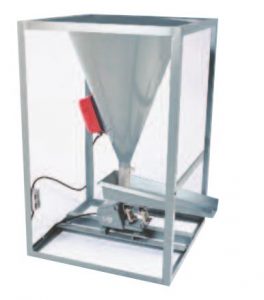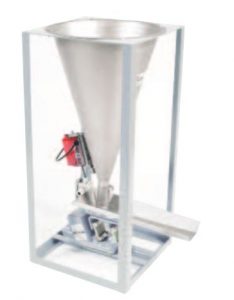 Syntron® volumetric feeder machines
Simple design and flexible control account for the efficient, economical performance of Syntron® Volumetric Feeder Machines, and the growing industrial preference for them. These units can feed most dry bulk materials and can be supplied to conform to FDA and USDA specifications. Six Syntron Volumetric Feeder Machine models are available.
Syntron Volumetric Feeder Machine designs include four basic components: a supply hopper, a hopper vibrator, a vibrating feeder and the supporting frame.  Supply hoppers are usually fabricated from mild steel but are available in stainless steel. Most supply hoppers are conical; however, rectangular hoppers are an option. Adjusting the gate height between the hopper and feeder trough regulates material depth for most models. Material depth for model FM-T0 is regulated by hopper tilt.
Arching, plugging or bridging of materials in the hopper is prevented through incorporation of a Syntron electromagnetic vibrator. The hopper vibrator features a variable power control, assuring free flow of material to the feeder trough. Vibrating feeders on the Syntron Volumetric Feeder Machines operate at 3,600 vpm (at 60 Hz) and trough options include flat pan (standard), V-shaped, tubular or screening troughs of mild or stainless steel.
Because of their simple design, Syntron Volumetric Feeder Machines are dependable and have an exceptionally long service life. There are no moving
parts such as motors, belts, gears, valves, connecting arms or sliding rods to wear or lubricate. For dust-tight sealing, special covered or tubular troughs feature flexible seals on the discharge end of the supply hopper. In addition, flexible seals that seal the top of the supply hopper to an overhead chute, as well as removable dust covers for the supply hopper are available.